KARAKTERISTIK KIMIA MIE BASAH SUBSTITUSI DARI TEPUNG JAGUNG, RUMPUT LAUT, DAN UMBI BIT
Nurul Ainiyah

Mahasiswa

Dwi Novri Supriatiningrum

Sutrisno Adi Prayitno
Abstract
Corn flour and seaweed are foodstuffs that have high fiber content and low calories. Beetroot was a functional food ingredient that can be used as a source of vitamins and minerals as that have good benefits for the body. The purpose of this research is to create a wet noodle formulation with the substitution of corn flour, seaweed, and beetroot so that it can be used as an alternative food for obesity. The research method used an experimental design with a completely randomized design consisting of two comparable groups, one experimental group and one control group. Chemical laboratory tests were analyzed using the ANOVA test and Duncan's advanced test. The results of the chemical test of macronutrients and crude fiber were different with the P-value sig. < 0.05. The macronutrient levels of F0, F1, F2 and F3 are 6.78 g protein; 7.43 g; 7.72 g; 7.86 g, 6.21 g fat; 7.45 g; 8.57 g; 8.85 g, carbohydrates 33.04 g; 33.67 g; 34.78 g; 36.10 g, fiber 0.53 g; 0.72 g; 0.87 g; 1.03 g. Determination of the best nutritional value was carried out using an effectiveness test, with the result values ​​at F0, F1, F2, and F3 being 0; 0.38; 0.74; 1. The best nutritional value was in formula 3 with 18% corn flour substitution, 7% seaweed, and 15% beetroot. So that F3 wet noodles can be consumed as a substitute for staple foods or as a variety of carbohydrate sources while still paying attention to a balanced nutritional diet and the contents of my plate, namely adding side dishes, vegetables, and fruits.
Downloads
Download data is not yet available.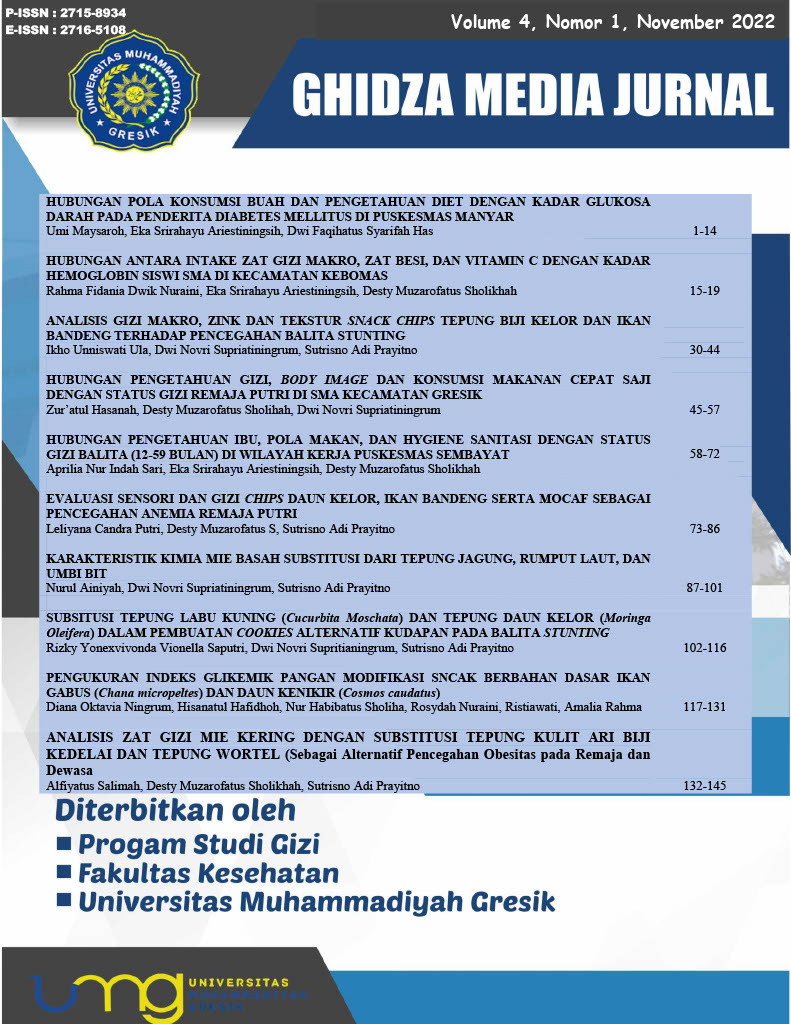 How to Cite
AINIYAH, Nurul; SUPRIATININGRUM, Dwi Novri; PRAYITNO, Sutrisno Adi. KARAKTERISTIK KIMIA MIE BASAH SUBSTITUSI DARI TEPUNG JAGUNG, RUMPUT LAUT, DAN UMBI BIT.
Ghidza Media Jurnal
, [S.l.], v. 4, n. 1, p. 87-101, nov. 2022. ISSN 2716-5108. Available at: <
http://journal.umg.ac.id/index.php/ghidzamediajurnal/article/view/4753
>. Date accessed: 11 dec. 2023. doi:
http://dx.doi.org/10.30587/ghidzamediajurnal.v4i1.4753
.