ANALISIS GIZI MAKRO, ZINK DAN TEKSTUR PADA SNACK CHIPS TEPUNG BIJI KELOR (MORINGA OLEIFERA) DAN IKAN BANDENG (CHANOS, FORSSKAL) TERHADAP PENCEGAHAN BALITA STUNTING
Ikho Unniswati Ula

Universitas Muhammadiyah Gresik

Dwi Novri Supriatiningrum

Sutrisno Adi Prayitno
Abstract
Stunting is a physical growth disorder that occurs in children which is influenced by low nutrient intake and characterized by low height based on age. The purpose of the study was to determine the levels of macronutrients, zinc and texture in snack chips made from Moringa seed flour and milkfish. The research method used a laboratory experimental approach and research design with a completely randomized design (CRD) with control formula (F0) and treatment formula F1 (60% wheat flour, 3% Moringa seed flour, 37% milkfish), F2 (58% wheat flour, 2% Moringa seed flour, 40% milkfish) and F3 (56% wheat flour, 1% Moringa seed flour, 43% milkfish). Analysis of chemical assay using the One Way Anova test and Duncan's advanced test. The results of chemical tests on nutritional levels of protein F0 1.51 g, F1 1.81 g, F2 2.22 g, F3 2.86 g, fat F0 0.54 g, F1 0.82 g, F2 1.01 g, F3 1.34 g, carbohydrates F0 12.97 g, F1 13.35 g, F2 13.54 g, F3 13.61 g, zinc F0 0.51 mg, F1 0.58 mg, F2 0.65 g, F3 0.75 and texture F0 0.51%, F1 0.62%, F2 0.77%, F3 1.02%. The results of the analysis using statistical tests there were significant differences in protein, fat, zinc, carbohydrates and texture and there were no significant differences in carbohydrates in the F2 and F3 formulations. The best nutritional value in each formulation using the effectiveness test is found in F3.
Downloads
Download data is not yet available.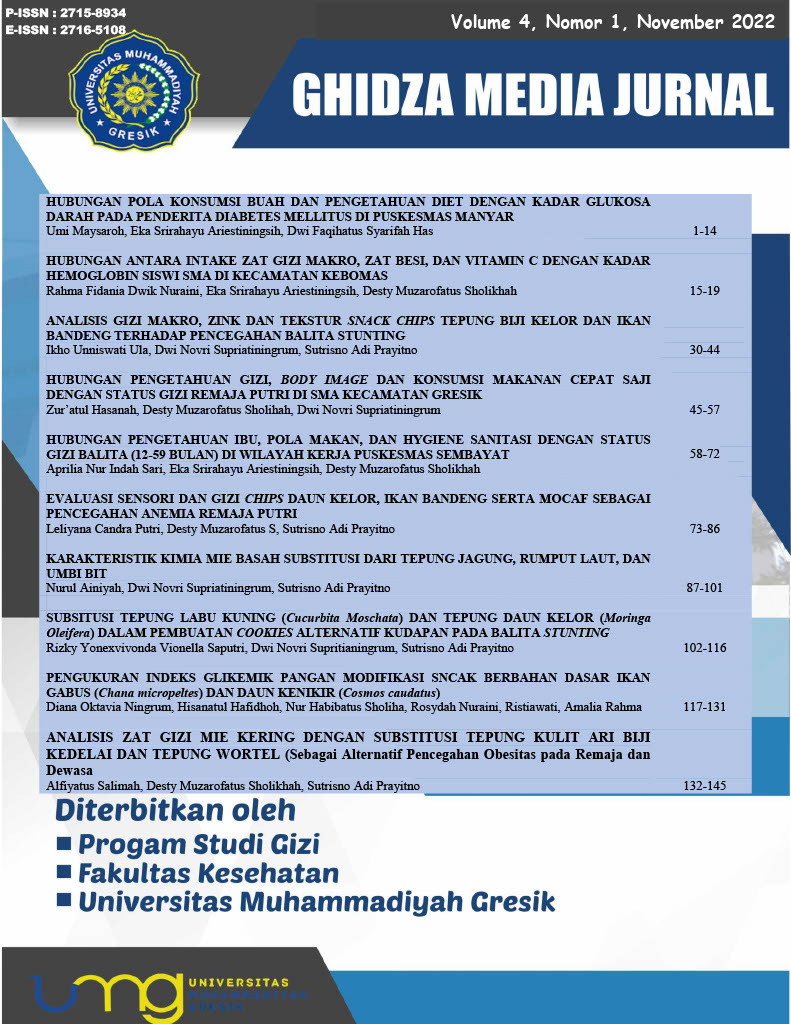 How to Cite
ULA, Ikho Unniswati; SUPRIATININGRUM, Dwi Novri; PRAYITNO, Sutrisno Adi. ANALISIS GIZI MAKRO, ZINK DAN TEKSTUR PADA SNACK CHIPS TEPUNG BIJI KELOR (MORINGA OLEIFERA) DAN IKAN BANDENG (CHANOS, FORSSKAL) TERHADAP PENCEGAHAN BALITA STUNTING.
Ghidza Media Jurnal
, [S.l.], v. 4, n. 1, p. 30-44, nov. 2022. ISSN 2716-5108. Available at: <
http://journal.umg.ac.id/index.php/ghidzamediajurnal/article/view/4552
>. Date accessed: 28 jan. 2023. doi:
http://dx.doi.org/10.30587/ghidzamediajurnal.v4i1.4552
.