Strategi Pembelajaran Speaking Mahasiswa Di Tingkat Universitas
Yuli Astutik

Choirun Nisak Aulina
Abstract
Strategi pembelajaran merupakan langkah-langkah kegiatan yang dipilih dan digunakan oleh pembelajar untuk mencapai pemahaman dan tujuan dari
suatu materi. Demikian juga dalam belajar bahasa Inggris, pembelajar atau peserta didik harus memiliki strategi atau cara tentang bagaimana belajar
bahasa secara efektif dan efisien. Banyak strategi pembelajaran bahasa (language learning strategy) yang dikemukakan para ahli, khususnya dalam pembelajaran speaking antara lain: strategi kognitif, strategi afektif dan strategi sosial. Dari ketiga strategi tersebut, strategi sosial seringkali tidak digunakan
oleh pembelajar yang memiliki kategori rendah  pada pembelajaran speaking. Mereka cenderung pasif, tidak mau bertanya dan tidak percaya diri. Untuk itu,
pada penelitian ini penulis ingin mengetahui lebih dalam tentang seberapa jauh penggunaan strategi sosial pada mahasiswa kategori rendah (low level students), mahasiswa kategori sedang (middle level student), dan mahasiswa kategori tinggi (high level student) dalam pembalajaran speaking pada
matakuliah speaking for daily communication pada program studi pendidikan bahasa Inggris semester 1. Metode penelitian yang digunakan pada penelitian
ini adalah kualitatif deskriptif karena peneliti mendeskripsikan serta memaparkan data yang didesain atau dirancang tidak menggunakan data
statistik. Sedangkan teknik pengumpulan data pada penitian ini adalah observasi dan interview. Hasil dari penelitian menunjukkan bahwa LLS sama
sekali tidak menggunakan strategi sosial pada kelas speaking for daily for Communication, MLS menggunakan strategi sosial hanya pada beberapa aspek
dan HLS menggunakan semua aspek strategi sosial dengan baik.
Downloads
Download data is not yet available.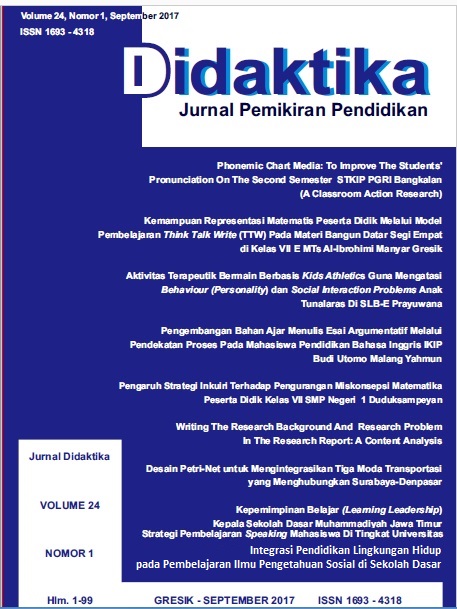 License and Copyright Agreement
In submitting the manuscript to the journal, the authors certify that:
They are authorized by their co-authors to enter into these arrangements.
The work described has not been formally published before, except in the form of an abstract or as part of a published lecture, review, thesis, or overlay journal.
That it is not under consideration for publication elsewhere,
That its publication has been approved by all the author(s) and by the responsible authorities – tacitly or explicitly – of the institutes where the work has been carried out.
They secure the right to reproduce any material that has already been published or copyrighted elsewhere.
They agree to the following license and copyright agreement.
Copyright
Authors who publish with DIDAKTIKA: Jurnal Pemikiran Pendidikan agree to the following terms:
Authors retain copyright and grant the journal right of first publication with the work simultaneously licensed under a Creative Commons Attribution License (CC BY-SA 4.0) that allows others to share the work with an acknowledgment of the work's authorship and initial publication in this journal.
Authors are able to enter into separate, additional contractual arrangements for the non-exclusive distribution of the journal's published version of the work (e.g., post it to an institutional repository or publish it in a book), with an acknowledgment of its initial publication in this journal.
Authors are permitted and encouraged to post their work online (e.g., in institutional repositories or on their website) prior to and during the submission process, as it can lead to productive exchanges, as well as earlier and greater citation of published work.
Licensing for Data Publication
DIDAKTIKA: Jurnal Pemikiran Pendidkan use a licence, that are specifically designed for and appropriate for the treatment of data under a
Creative Commons Attribution-ShareAlike 4.0 International License
that allows others to share the work with an acknowledgment of the work's authorship and initial publication in this journal. Other data publishing licenses may be allowed as exceptions (subject to approval by the editor on a case-by-case basis) and should be justified with a written statement from the author, which will be published with the article.
Open Data and Software Publishing and Sharing
The journal strives to maximize the replicability of the research published in it. Authors are thus required to share all data, code or protocols underlying the research reported in their articles. Exceptions are permitted but have to be justified in a written public statement accompanying the article.
Datasets and software should be deposited and permanently archived inappropriate, trusted, general, or domain-specific repositories (please consult http://service.re3data.org and/or software repositories such as GitHub, GitLab, Bioinformatics.org, or equivalent). The associated persistent identifiers (e.g. DOI, or others) of the dataset(s) must be included in the data or software resources section of the article. Reference(s) to datasets and software should also be included in the reference list of the article with DOIs (where available). Where no domain-specific data repository exists, authors should deposit their datasets in a general repository such as ZENODO, Dryad, Dataverse, or others.
Small data may also be published as data files or packages supplementary to a research article, however, the authors should prefer in all cases a deposition in data repositories.