Effect Of Technology, Organization, And External Environment On Business Performance Mediated By The Adoption Of Technology 4.0 In SMEs
Hario Tejo Bawono

Universitas Pembangunan Nasional Veteran Yogyakarta

Winarno Winarno

Universitas Pembangunan Nasional "Veteran" Yogyakarta

Karyono Karyono

Universitas Pembangunan Nasional "Veteran" Yogyakarta
Abstract
Background – SMEs are very important for a country's economic growth and are recognized as one of the main contributors to economic development, which results in job growth. However, Manding SMEs in Bantul Regency find it difficult to survive in the current economic environment, especially during the current Covid-19 pandemic. This study analyzes the issue of deteriorating performance due to the COVID-19 pandemic in Bantul. Aim – This study aims to re-analyze the relationship between Technology-Organization-Environment (TOE) and SME business performance. Design / methodology / approach – This research is a census study with the number of respondents as many as 30 UKM Leather Manding in Bantul, Yogyakarta, Indonesia. The method of data collection is done by distributing questionnaires. The analytical tool used in this research is Partial Least Square (PLS). Results and Discussion - This study has found a positive and significant relationship with each hypothesis. The results of hypothesis 1 in this study found that technology factors were positively and significantly related to SME business performance. hypothesis 2 has the greatest value compared to the variables of technological factors and external environmental factors. hypothesis 3 has a relatively small original sample value compared to technological factors and organizational. hypothesis 4 in this study indicate that the direction of the relationship is positive and significant. hypothesis 5 found that organizational factors affect SME business performance mediated by the adoption of technology 4.0. Conclusion - The results of the research that have been carried out show that the Leather Manding SME in Bantul has SME business performance which is influenced by the adoption of technology 4.0. On the other hand, the adoption of technology 4.0 itself is influenced by technological factors, organizational factors, and external environmental factors. Research implication – Provide direction for SME Kulit Manding in Bantul to strengthen and sustain organizational growth by enhancing and collaborating on SME's distinct image, goals, strategies, and core values as well as facilitating consistent relationships within and outside of ICT interactions in order to compete and excel in the leather craft industry. Limitations – Based on the findings of this study, this study has several limitations, the sample in this study was limited to certain areas, namely Manding, Bantul, Special Region of Yogyakarta. Although this study establishes a cognitive model of the TOE and SMEs business performance consistent with the theoretical basis used, however, based on theoretical aspects, the study of technology adoption 4.0 in SMEs still provides development opportunities to test the cognitive model TOE and SMEs business performance.
Downloads
Download data is not yet available.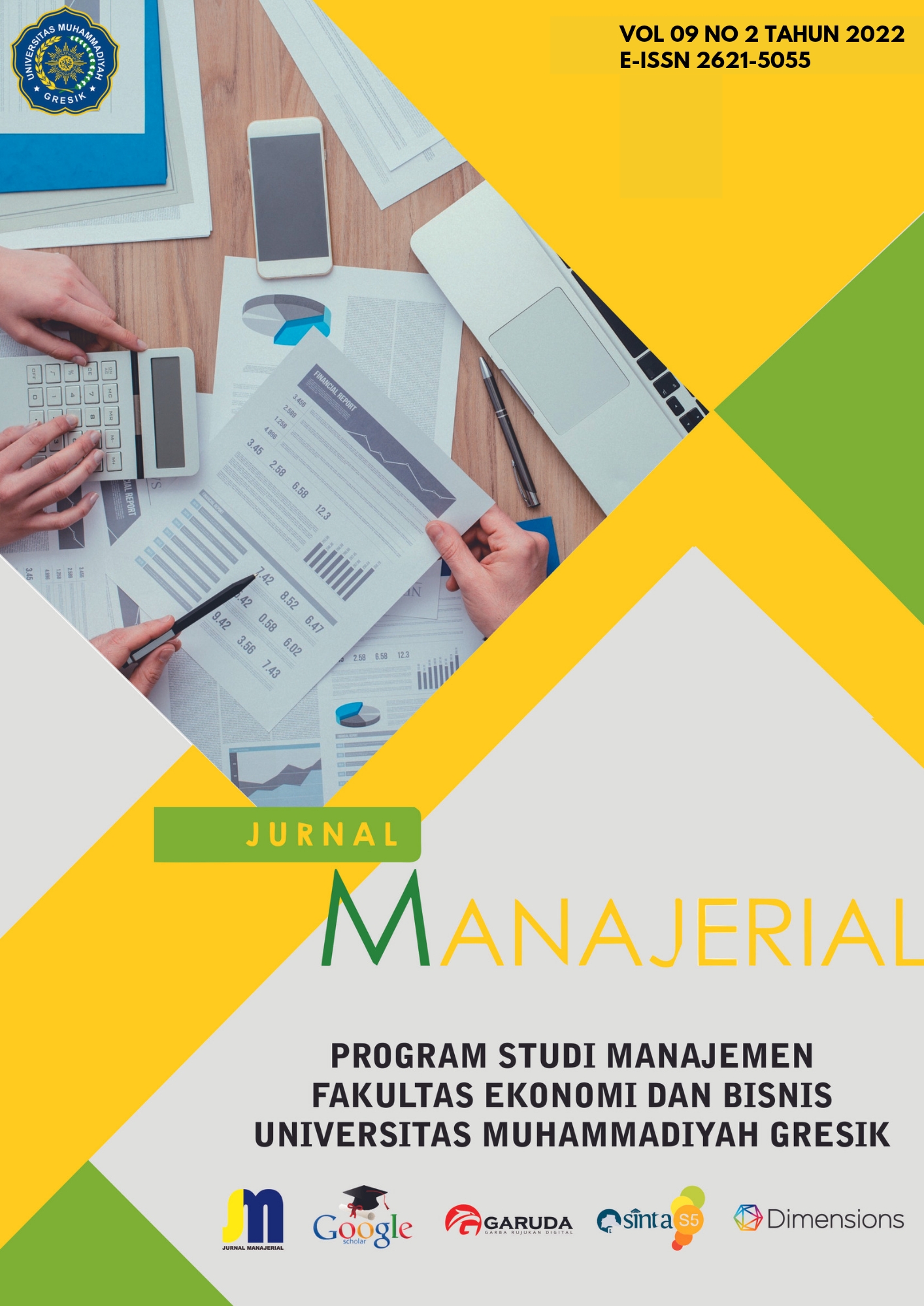 How to Cite
BAWONO, Hario Tejo; WINARNO, Winarno; KARYONO, Karyono. Effect Of Technology, Organization, And External Environment On Business Performance Mediated By The Adoption Of Technology 4.0 In SMEs.
Jurnal Manajerial
, [S.l.], v. 9, n. 02, p. 228-248, june 2022. ISSN 2621-5055. Available at: <
http://journal.umg.ac.id/index.php/manajerial/article/view/3854
>. Date accessed: 08 feb. 2023. doi:
http://dx.doi.org/10.30587/jurnalmanajerial.v9i02.3854
.
This work is licensed under a Creative Commons Attribution 4.0 International License.