Analisis Loyalitas Anak Buah Kapal (ABK) Armada Kapal Pinisi PT Aswil Lautan Sejati
Aldila Anggun Kinanti

PT Aswil Lautan Sejati

Moh. Agung Surianto

Universitas Muhammadiyah Gresik

Abdurrahman Faris Indriya Himawan

Universitas Muhammadiyah Gresik
Abstract
Background - Companies need good employees as one of the company's assets who have an important role in carrying out organizational activities. Employees who are needed are not only capable, competent and skilled, but most importantly they also have a high sense of loyalty. Loyalty is necessary so that these employees can work not only for themselves but also for the advancement of the company. Purpose – The purpose of this research is to analyze the loyalty of the ship crew (ABK) Pinisi Ship Fleet PT. Aswil Lautan Sejati. Design/ Methodology/ Approach - Using qualitative methods with a phenomenological study model. The informants in this study were ship crew (ABK) who had worked for at least 10 years (3 people), then the ship's captain and ship owner. Data collection techniques using interviews, with data analysis techniques using data reduction, data presentation, conclusions and verification. Conclusion - The crew members are capable and responsible for carrying out work based on their position and the relationship between the ship owner and the crew is like there is no distance. Supporting loyalty in profit-sharing compensation is the best way for ABK to feel. Result and discussion - Based on the results of the study, the researchers concluded that the crew members are loyal to the company which is shown by their attitudes and behavior at work and towards colleagues and superiors even though there is no guarantee / insurance in doing their job. Research Implication- be a reference in strategies to improve employee welfare, not financial aspects, but also non-financial aspects such as health and safety insurance.
Downloads
Download data is not yet available.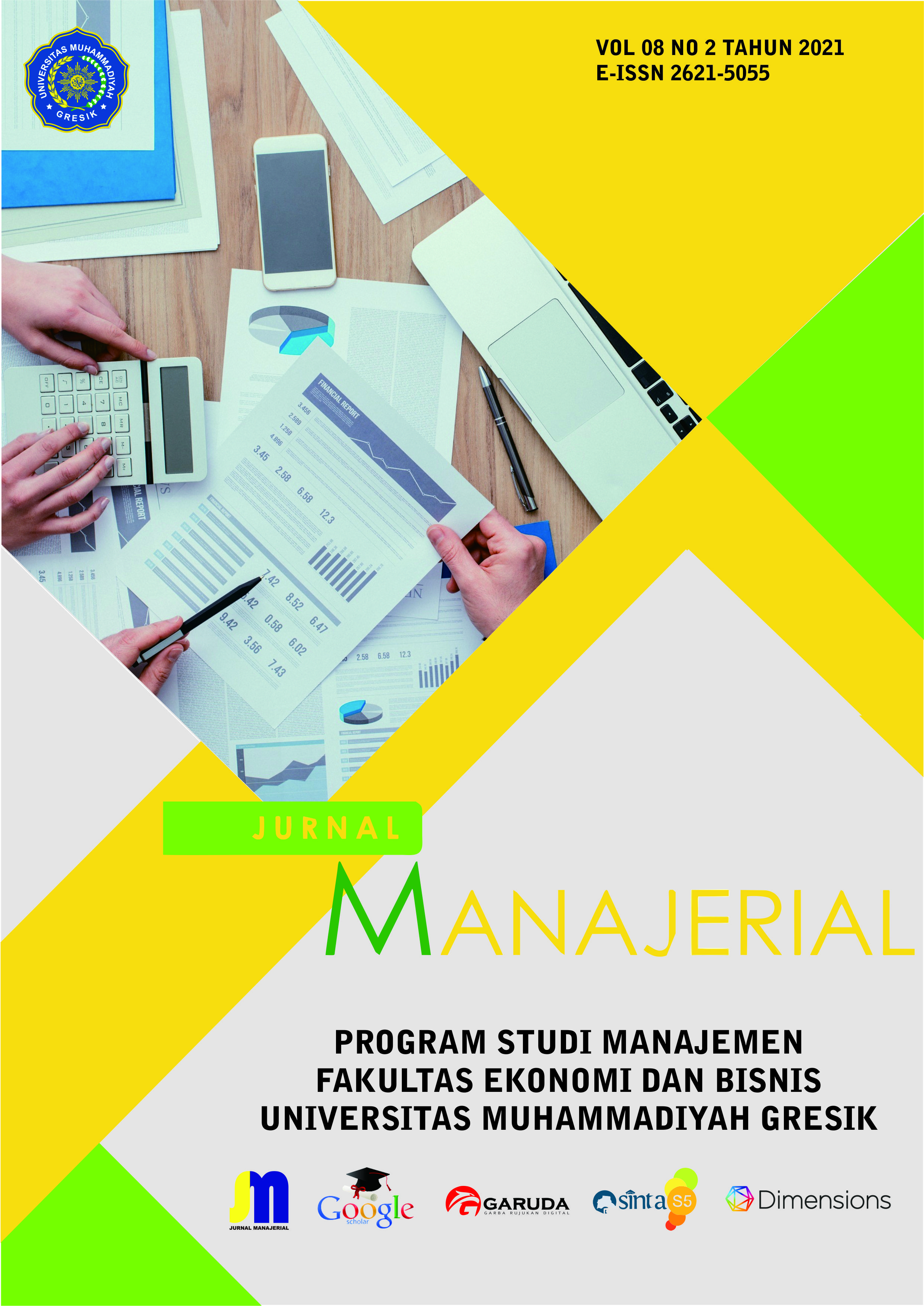 How to Cite
KINANTI, Aldila Anggun; SURIANTO, Moh. Agung; INDRIYA HIMAWAN, Abdurrahman Faris. Analisis Loyalitas Anak Buah Kapal (ABK) Armada Kapal Pinisi PT Aswil Lautan Sejati.
Jurnal Manajerial
, [S.l.], v. 8, n. 02, p. 183-195, may 2021. ISSN 2621-5055. Available at: <
http://journal.umg.ac.id/index.php/manajerial/article/view/2512
>. Date accessed: 09 feb. 2023.
This work is licensed under a Creative Commons Attribution 4.0 International License.